STRESS MANAGEMENT FOR THE 21ST CENTURY
---
THE STRESS DOCTOR
In our fast paced, ever-changing world, it's common place and even considered normal to feel overwhelmed and stressed out. However, according to research, if high stress levels are not managed, they will negatively impact health, relationships and career.
According to the World Health Organization,
the cost of stress to American business
is between $300 and $450 billion annually.

Dr. Mitchell Mays has been treating and educating patients, groups, and businesses on cutting-edge effective ways to manage stress for nearly forty years. If you want better leadership, team performance, sales, customer service and bottom lines, Dr. Mays can help! Just CLICK HERE to get started.
KEYNOTE PRESENTATIONS & PROGRAMS
When you need your event to be a success, you need to rely on your speaker to deliver on their promise.
Cloud technology, communication platforms, IT, knowledge networks, medical technology, and more. The learning curve is frustrating to some and manna to others. Either way, it creates "information overload" and a form of mental chaos. Dr. Mays will teach your team how to stay on task and become immune to the devastating effects technology can have on your business team's culture and environment. CLICK HERE to learn more.
In today's business, organizations that fail to respond effectively to change, whether it be team projects or customer demands are doomed to fail. Dr. Mays teaches your teams how to respond effectively every time, to whatever situation or demand arises to create a harmonious and unified positive response that reflects the company's vision and major purpose. CLICK HERE to learn more.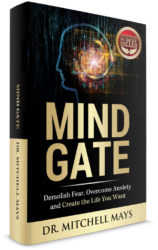 Get 2 FREE Chapters of
MIND GATE:
Demolish Fear,
Overcome Anxiety and
Create the Life You Want 
Dr. Mitchell Mays, #1 International Bestselling Author, Featured On:

CONTACT ME
Office Phone: (209) 368-1895
doc@drmitchellmays.com
801 S. Fairmont Ave Suite #7
Lodi, CA 95240
COMPANY INFO
MIND GATE Productions Inc.
P.O. BOX 1492
Woodbridge, CA 95258
Office: 209.368.1895
doc@drmitchellmays.com